Do you ever wonder about the cloud, how it works and what it can do for your business?
If so, wonder no more!
I am delighted to have been invited by Vega Technology to speak at an event they are holding on the benefits of cloud hosting. They will showcase their new solutions to help streamline your operations. This includes DigiHub, the internet and mobile platform for digital client servicing.
My presentation focuses on what we mean by 'the cloud'. I'll describe the different types of cloud (public, private, hybrid) and the services you can buy (IaaS, PaaS, SaaS). I will cover the business benefits of cloud over traditional on-premise IT services. Finally, I'll be busting some of the myths surrounding the cloud, particularly in a local context.
the main one being 'we can't have our data outside Guernsey' spoiler alert: you can!
I'll be joined by Dan Brown from Resolution IT. Dan will focus on more of the technical pros and cons, the benefits of utilising cloud services to host traditional applications, data and workflows. The second half of his section will be about the how, by completing cloud readiness audits to understand what can and can't be achieved by moving data and applications to cloud services.
We'd love you to attend!
The free event is taking place on Thursday 16 February, at the OGH Hotel at 11am.
Click here https://www.eventbrite.com/e/demystifying-the-cloud-positioning-for-growth-tickets-513861733277 to learn more and to register.
If you know anyone who would benefit from attending, please share this blog.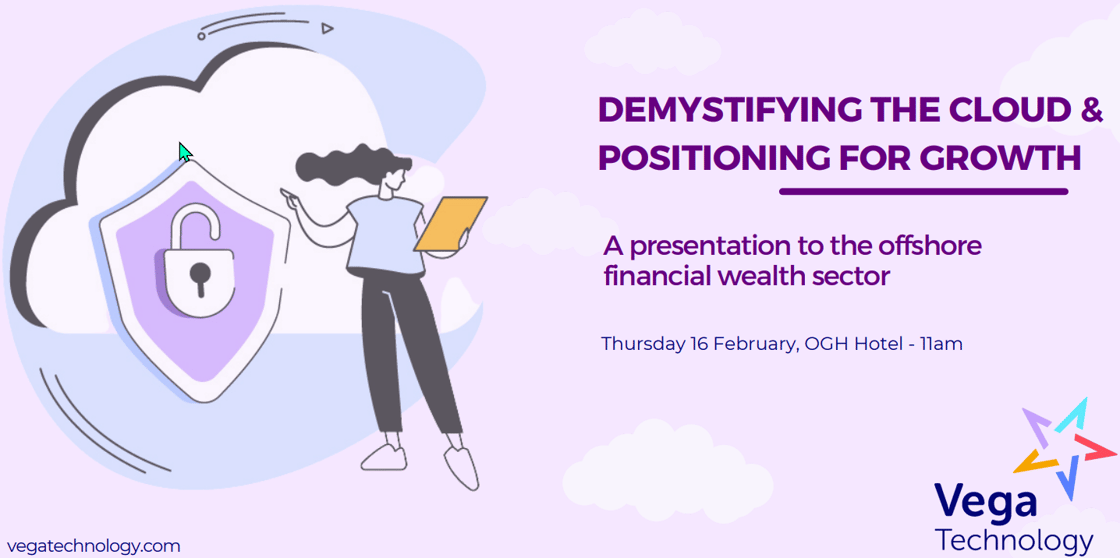 If you can't make the event, but would like to discuss the topic, please contact me. You can use the Contact Us page above, or book a free Teams call using my Bookings Page.
Either way it would be great to hear from you.
About Vega Technology
Vega Solutions merged with Fusion Acusoft in November 2021 to form Vega Technology.
The company's mission is to put evolutionary technology at the heart of financial services to help them better serve their clients. Vega's team of 20, designs FinTech & RegTech software and offers bespoke technology solutions and training. The company employs people in Berkshire, Reading and in their St Peter Port offices.